Hi friends! Happy Wednesday! What's going on this morning?? What's on the workout agenda?? THANK YOU so much to those of you who have signed up for barre bootcamp already! I was blown away by the enthusiasm, and am so pumped that so many of you will be joining us for this 4-week challenge. I already know it's going to be a great one! We still have some spots left, so be sure to sign up here if you want to be a part of the spring barre party (starting Monday!).
Yesterday was a fun, but long day. We still have a couple of days of unpacking craziness, but I'll be sure to post a recap and an update soon with everything going on! In the meantime, I wanted to share this recipe I created one night a couple of weeks ago when the Pilot was working nights.
When the Pilot works late, I can make things that I wouldn't usually make for dinner when he's home. Aka all the quinoa, squashes, and cauliflower rice.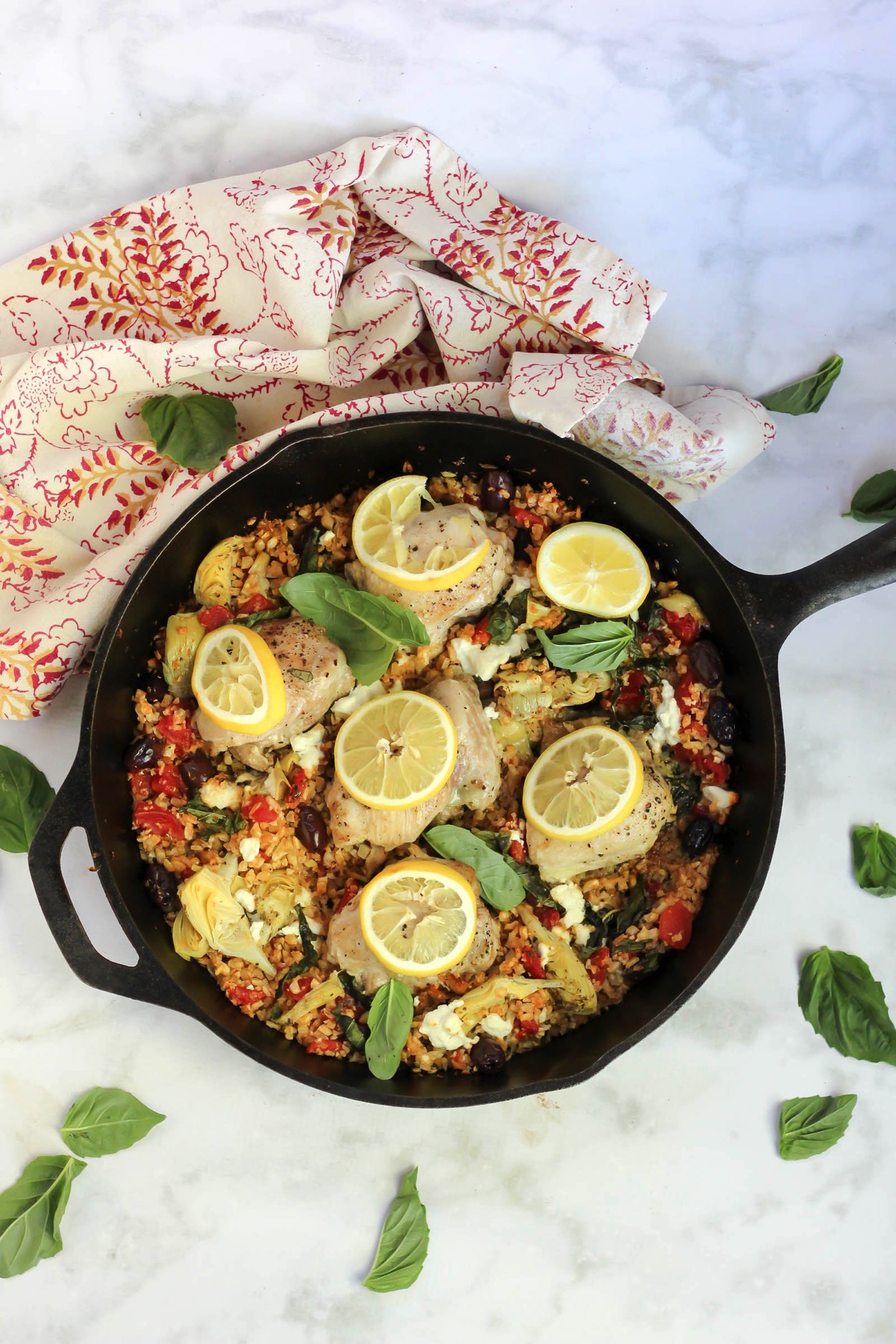 In all honesty, I think I'm the only person in the family that really likes cauliflower rice. In the past, I would sauté it in some butter, add lots of spices, and Liv would be screaming to "Stop that smell!" while P would shove a handful in her mouth before immediately spitting it out. P would then look up at me with the face of someone who'd been tricked.
Well, that's what happened before I learned how to make GOOD cauliflower rice.
I've found the secret: you have to add something really flavorful to take out that vegetable cauli-flavor. Usually diced tomatoes, chicken broth, or soy-ginger marinade work nicely. Add lots of chopped veggies, maybe some fruit or herbs, and boom: cauliflower rice that doesn't taste like sadness!!
Sunbasket should really take credit for teaching me how to make bomb cauliflower rice. Their recipes are always delicious, and it taught me how to get out of the box and really season that ish up.
Here's the recipe for this incredibly flavorful, protein-packed, and low-carb dinner.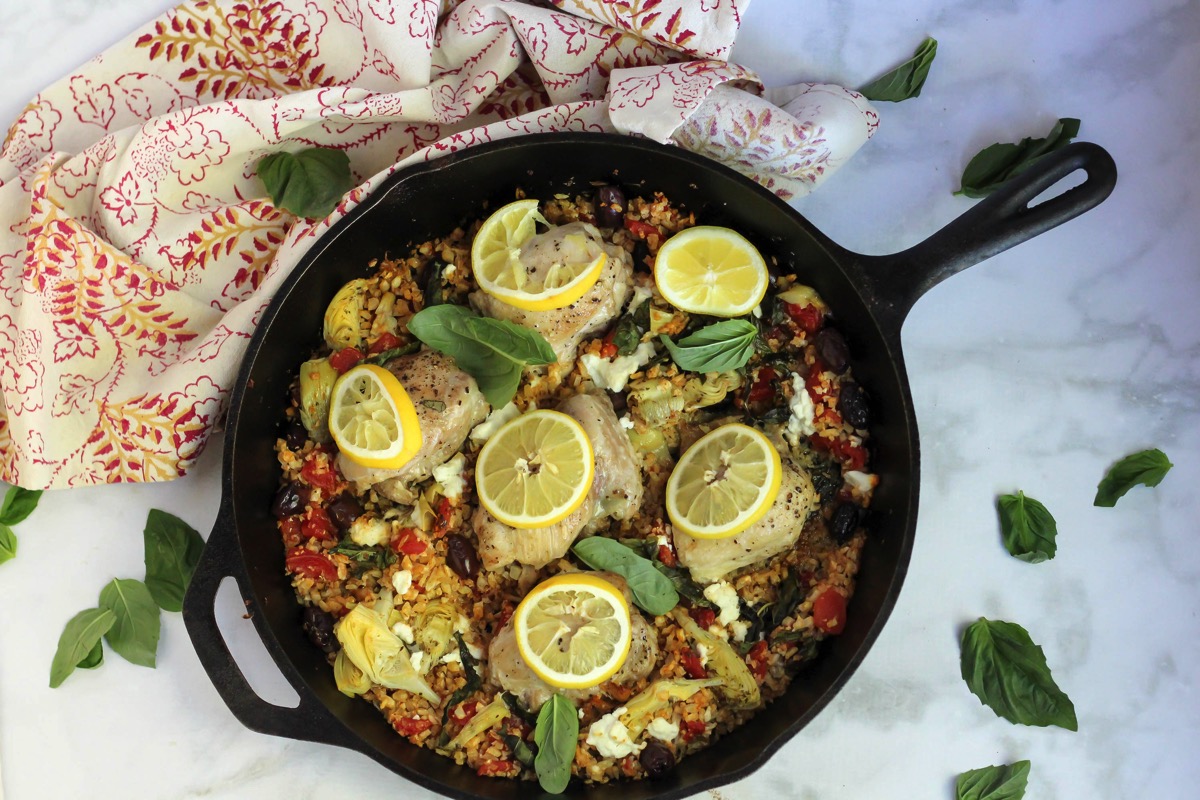 The best part: the kiddos loved it, too.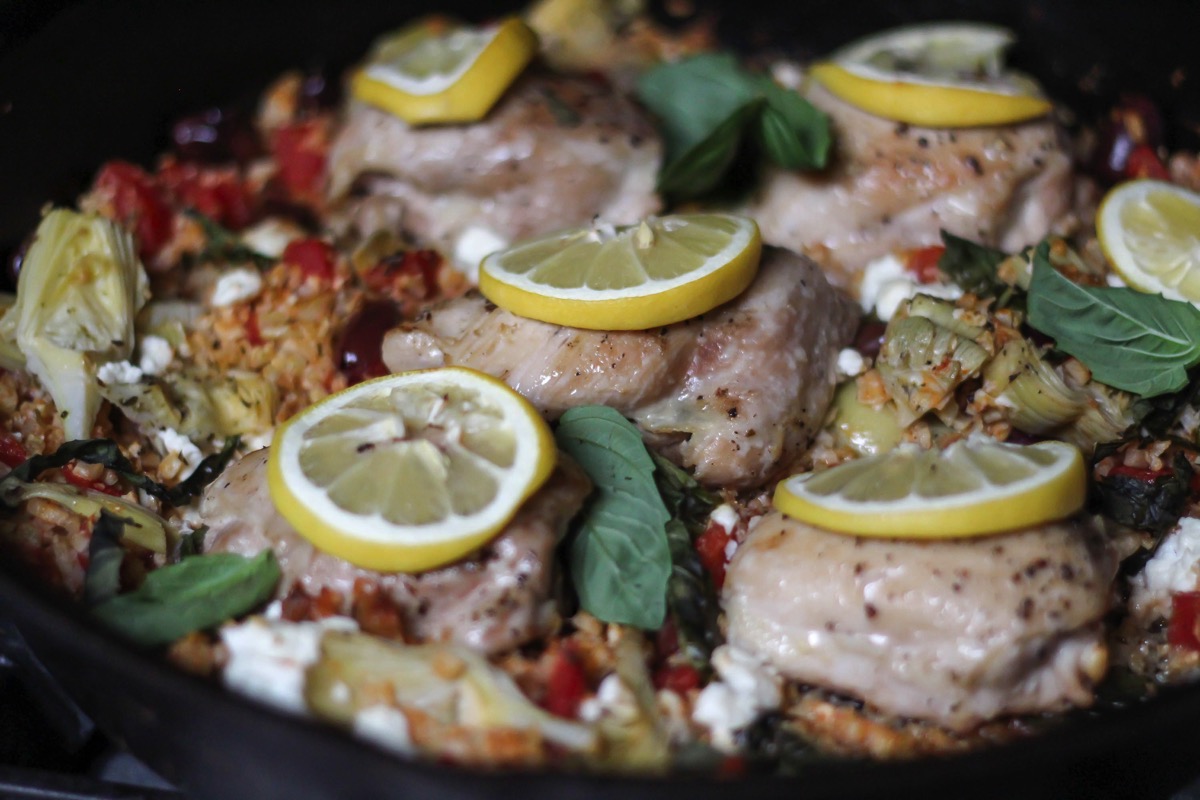 Please let me know if you give it a try!!
Print
Mediterranean Chicken with Cauliflower Rice
Scale
Ingredients
1

lb chicken thighs (pat dry and season with salt and pepper)

1

lb rice cauliflower (if you don't buy the pre-made stuff, just core a cauliflower and pulse in the food processor)

1/2 cup

feta cheese

1

small can (

14.5 oz

) diced tomatoes

1/3 cup

kalamata olives

8 oz

chopped marinated artichoke hearts

1/4 cup

chicken broth or red wine
Small handful of fresh basil

1/2 teaspoon

oregano

1

lemon (juice half and reserve; slice the other half and reserve)
Salt and pepper
Instructions
Preheat the oven to 375, and preheat a large cast iron skillet to medium high heat. Add a little olive oil, and brown the chicken for 4-5 minutes per side, until almost cooked through. Set the chicken aside.
In the same pan, add a bit of olive oil and the cauliflower rice. Cook until softened, 5-6 minutes and season with salt and pepper.
Add in the broth or red wine, and scrape the bottom of the pan. Stir in the diced tomatoes, artichokes, oregano, lemon juice, basil, olives, and feta.
Top with the chicken thighs, and place lemon slices on top.
Bake for 20-25 minutes, until the chicken is cooked through and the juices run clear.
Serve immediately with extra basil on top if you'd like!

Are you a cauliflower rice fan? Anything you like to make/eat when your partner or significant other is away?